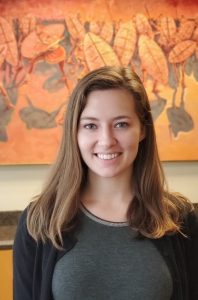 Paralegal
From: Dubuque, Iowa
Phone: 612-746-0381
Email: aweires@igbanugolaw.com
Andrea joined Igbanugo Partners as a Paralegal in May of 2020. She is originally from Iowa, but studied at Wesleyan University in Connecticut, where she received a bachelor's degree in Government, Hispanic Literature and Culture, and Latin American Studies. There, she was inducted into the Phi Beta Kappa Honors Society and was awarded the Levy-Spira prize for distinction in Latin American Studies. As an undergraduate, she studied development and neo-liberalism in Mexico, and Latin American politics in Argentina.
Andrea began working in immigration law as an undergraduate intern at The Advocates for Human Rights in Minneapolis, where she supported legal staff working on Central American asylum cases. After graduating from Wesleyan University in the spring of 2019, Andrea joined the Peace Corps and worked as a Spanish Literacy volunteer in a rural community in the Dominican Republic, where she further developed her cross-cultural communication and Spanish language abilities. She was evacuated from the Dominican Republic due to COVID-19, but began work at Igbanugo Partners to continue acting on her belief that all people deserve access to opportunities, regardless of where they were born.